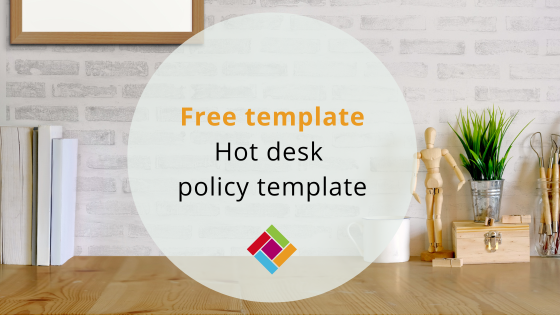 If you're considering introducing hot desking at your business then it is a good idea to create a hot desk policy so that all employees understand the rules.
Why do you need a hot desk policy?
This not only helps everyone understand the process, but makes sure that resources are fully utilised. Here's our free hot desk policy template for you to customise to your business. Just copy and paste the wording into your own document:
What is hot desking?
In a hybrid working world, combined with open-plan office spaces and shared working locations – hot desking is now a staple in modern working life. It essentially refers to a system where desks are used by different people at different times, so no one person has a single desk. It allows for flexible working and times when different staff members may be rotating in the workplace. Hot desking is thought to bring many benefits. According to WeWork it can increase creativity and productivity as staff are interacting with different team members.
Post-pandemic hot desking
All desks should be kept clean between users and staff should have access to cleaning products to ensure this happens. The HSE has useful guidance. 
Free hot desk policy template
Use our template to communicate your hot desk policy to staff.
Download our free Word template:
* required
By sending this information you agree to receive updates from us. You can unsubscribe at any time.
Your information will be protected in accordance with our privacy policy.
Introduction
We appreciate that different people use our office space in different ways, some of us are in the office throughout the week whilst others might be working from home or meeting with clients.
With this in mind, we would like to introduce hot desking for those of us who don't need a specific desk as part of our job.
In addition to the ability to work flexibly, we feel hot desking will help us to make the most of our office space, manage our costs and increase team interaction as we continue to grow.
Each hot desk area will have:
On desk equipment – computer screens on the desk (keyboards/mouse) (laptop stand) (phone chargers).
Anti-bac wipes.
Recycle bins and shredders for confidential waste.
We recognise that everyone will accumulate items that they will need at work but that don't want to be carried around or would usually go safely in a desk drawer – personal lockers will be available to keep these items safe.
How to book your hot desk
On each floor a number of desks will be allocated to hot desking, you will be able to identify them by (insert way to identify them).
We have set up a booking system, (insert booking software) to check availability and book desks in advance.  You will also be able to book meeting rooms using this system.
Hot desk etiquette
Here are some tips to ensure everyone gets the most out of hot desking:
Booking desks are on a first-come, first-served basis.
Make sure you are using the booking system to reserve a desk; priority will be given to those who have a reservation.
Remember to cancel your booking if your plans change and you are no longer going to be in the office.
Be considerate and respectful to others; on busy days consider giving up your space if you are going to be away from your desk for a while or go to a meeting. Take calls or at desk conversations into meeting rooms in quiet environments.
Adjust the chairs, screens, and laptop stands to ensure you are comfortable and safe whilst working.
Use the lockers provided to keep personal items or confidential papers safe.
Ensure you keep the desk clean after use, anti-bac wipes will be available.
If you have recurring issues with availability or use of desk space please discuss this with your manager in the first instance or the office manager.
We hope you found this free hot desking policy template useful.
If you would like us to create other policies and procedures get in touch.
Receive HR updates
Sign up for our monthly newsletter. 
Free HR advice
Book a 15 min call with our HR consultants.
HR Services
Guidance on how to get HR support for your business.